This Jeep was a major job, because of the customer's request to make the install, water resistant. He didn't want to worry about putting the top on, in case of rain. He parked it in the garage most of the time.
This took us about 1 week to complete
The outside of the Jeep was done by a local 4x4 shop. They installed 4 off-road KC lights across the top of the windshield, and put on tail light guards. They also did some other modifications to the body, and suspension.
When this Wrangler came in, the stereo was completely stock.
This project came along because the customer had a bunch of stereo equiptment that we removed from a car he sold, and wanted it put in his "toy" Jeep.
To start with, the stereo is a Sony CD Player in the dash, with a Clairion EQ mounted under the dash (set back for water resistance).
We installed all 2 pairs of 3-way MB Quart Components, 1 pair custom cut into the doors, and the other put into custom made enclosures on top of the wheel wells in the rear (which were covered in vinyl to protect the speakers from water damage).
To power this system, we used his Rockford Fosgate 1 farad cap, and 2 new Optima batteries. The batteries were installed with a relay, so that the stereo can be played in accessory position of the key, and only one battery will be in line, with the key in run position, both batteries will be in line.
We used the stock battery location for one of the batteries, and placed the other in a custom "armrest" battery box (from a marine application), in-between the front seats.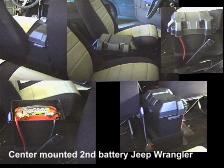 The was mounted on a amp rack, with the 6 channel Macintosh amplifier and the battery relay. The rack is mounted on the floor below the speaker box.
The speaker box was custom built to stand above the amp and cap, to provide water resistance, and it was also covered in vinyl.
The 2 subwoofers are JL Audio W6 12 inch. The Macintosh 6 channel amp, didn't supply the bass the customer wanted, so we added a Phoenix Gold 2 Channel amp under the rear seat, to power the subs.